WIN UP TO $15,000 IN ADDITIONAL ENDOWMENT FUNDS!
MidwayUSA Foundation Rockstars are youth shooting teams that work hard to raise money for their team. This money comes in the form of organized fundraisers or general donations. To award this year's hard work, the Foundation is awarding $50,000 cumulatively to top fundraising teams. The 1st place team receives $15,000, 2nd place receives $12,500, 3rd place receives $10,000, $7,500 for 4th, and $5,000 for 5th. Additionally, these top teams will earn fundraising patches to promote their hard work on and off the range. This is a new program and the first set of patches will be provided in early 2021.
Teams can earn Gold, Silver, or Bronze patches, year after year. Bronze fundraising patches are awarded when teams raise $5,000 in the year. Silver is awarded after adding $15,000 to their endowment and Gold patches are provided when a team raises $25,000 or more in one calendar year.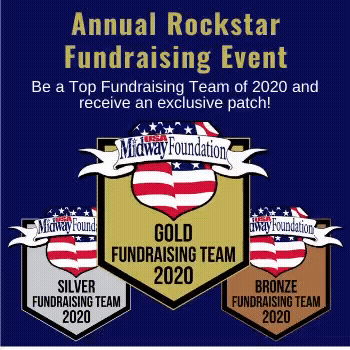 Once your team reaches a patch level, you will automatically earn the patch for that given year. There is not a limited number of teams receiving each patch either, which means if every team raises more than $5,000 in a year then every team would receive a patch. You can see an example of the patches in the graphic to the right!
All Team Endowments are eligible to participate in the Annual Rockstar event. The incentive will end on December 31, 2020, and winners will be announced in January 2021. To see the current standings, click here. Your shooting team still has more than 5 months left to compete, which is more than enough time to plan a fundraiser. Fundraising products, Peer-to-Peer, and even our newest fundraising resource, team uniforms, can assist your team in becoming a 2020 Annual Rockstar! More information on this fundraising event can be found in the guidelines below.