Our supporting programs provide a wide variety of opportunities for you to support the MidwayUSA Foundation with your own purchases. These businesses share our passion for growing youth shooting sports and have proudly created initiatives to show their commitment.
BONE-DRI VIP Program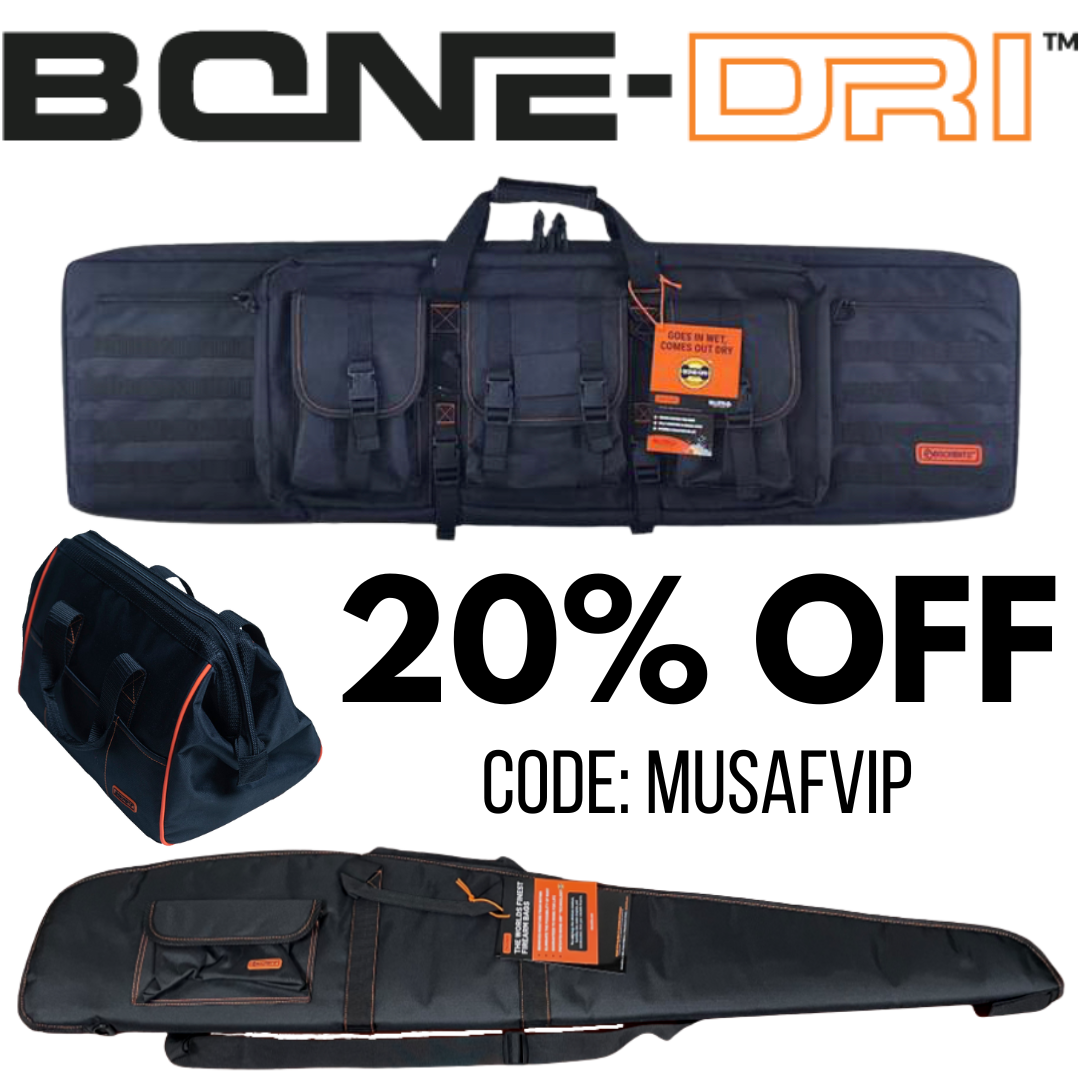 BONE-DRI has partnered with MidwayUSA Foundation to supply high-quality and affordable gun cases to the youth shooting community! BONE-DRI™ Rust Prevention Gun Cases extract moisture from the entire firearm, inside and out. BONE-DRI™ products are engineered with Absorbits™, a patented moisture removal agent that keeps your firearms dry and in great condition. Additionally, the products are constructed with the finest materials to easily withstand heavy wear and tear, are reusable, and are guaranteed for life.
Every youth shooting program has to store its firearms at some point. Whether your organization stores them together or your athletes store their own at home, a BONE-DRI case would be an excellent investment to keep your firearm in great condition. Use code: MUSAFVIP at BONE-DRI.com to get 20% off your order! Plus, BONE-DRI will donate 10% of the order to support the Foundation's mission!
---
Everest.com: Caliber Membership and Round-Up Program
Driven by their Caliber Members, Everest's mission is to create the leading marketplace for the outdoor recreation community – a place where retailers can sell firearms, fishing gear, camping gear, outdoor products, and other related consumer items; a place where like-minded consumers can learn, interact, participate and shop. Through their program, Everest Gives Back, Everest will provide funding to the MidwayUSA Foundation to support our mission. Everest Gives Back will provide funding to the MidwayUSA Foundation by allowing shoppers to select MidwayUSA Foundation and round-up their total order to the nearest dollar.
Additionally, Use CaliberMUSAF to get $30 off a One-Year Membership.
Learn more about Everest and their programs at Everest.com.
Caliber Memberships   Everest Gives Back
---
Eventgroove: TICKET PRINTING
The MidwayUSA Foundation has partnered with Eventgroove Fundraising to help your shooting team raise funds for your endowment account. Eventgroove Fundraising has created a webpage that is personalized for shooting teams with an endowment. This resource will give teams the option to add creativity and professionalism to their team fundraisers, plus shooting teams and organizations get 10% off their order (compared to ordering normally on eventgroovefundraising.com). However, remember to check your local regulations to see if a license is required to conduct a raffle in your state.
On the ticket printing page, you can design your own tickets or choose from the many raffle tickets and event kits already created!  The templates created already feature MidwayUSA Foundation Fundraising Products.  It's easy to get started, just select the button below to register, once approved by a MidwayUSA Foundation staff member you have full access to the site. To register all you need is an email and your Team ID.
DO NOT PRINT TICKETS WITHOUT CONFIRMATION FROM THE MIDWAYUSA FOUNDATION THAT YOUR LOI AND OTHER REQUIRED FORMS ARE COMPLETE, AND THE REQUESTED FUNDRAISING PRODUCT IS AVAILABLE!
---
SKB Shotguns: Accessories benefit MidwayUSA Foundation
SKB Shotguns has been a successful partner of ours for many years now, benefiting youth shooting teams across the country through excellent fundraising products. To continue supporting youth shooting sports, SKB Shotguns will be donating 5% of all parts and accessory sales to the MidwayUSA Foundation's Mission. So if you purchase $100 in accessories from SKB, then SKB will donate $5 to the Foundation. Some of the items that benefit youth shooting sports include range bags, shell pouches, gun cases, replacement stocks, and forends, choke tubes, and even spring rebuild kits. For more information, call 800-752-2767 or head to SKBshotguns.com.
---
SSP EYEWEAR
SSP Eyewear is committed to creating safety sunglasses that provide exceptional protection, great styles, coordinated colors, and superior fit. They truly believe that it's possible to have all of the comfort and eye appeal of a sunglasses with the protection of a safety glass. SSP is providing a discount to youth shooting teams and organizations as well as a donation to your endowment account when purchasing their safety eyewear. Contact SSP Eyewear to get a custom link for your team. You can share the link with your team, and community; every purchase through the link, benefs your MidwayUSA Foundation Endowment.
Additional Benefits
SSP will donate 10% of sales to your endowment, and get 10% off when using the code: MUSAF10
– So if you purchase $100 in eyewear from SSP Eyewear, then SSP will donate $10 to your Team's MidwayUSA Foundation Endowment.
SSP's safety sunglass lenses are prepared with a superior anti-scratch coating and shatterproof polycarbonate
A wide variety of lenses, styles, and color options are available
The option to customize frames is also an option. Please reach out to SSP with the contact information below for more information on customizing frames.
---
TEAM UNIFORMS

MidwayUSA Foundation has teamed up with Battle Gear to provide a resource for teams to order custom team uniforms AND grow their team endowment. Battle Gear takes custom uniforms and gear to the next level. They have created custom templates just for our shooting teams. Choose from those templates or work with Battle Gear to create your own, unique design. Their apparel professionals communicate closely with coaches and team leaders to turn any idea or vision into a design that the whole team will enjoy. Plus, 10% of your order benefits your team's endowment! So if you or your supporters purchase $100 in gear from Battle Gear, then Battle Gear will donate $10 to your Team's MidwayUSA Foundation Endowment.
Get started with the link below.