START PROMOTING Giving Tuesday IN YOUR COMMUNITY!
The Giving Tuesday Toolkit is now a webpage! Use this page full of graphics and resources to promote your shooting program's endowment leading up to and during Giving Tuesday. We know that funding your shooting team can be challenging at times and that you might want to promote Giving Tuesday in your community but might not know where to start. This toolkit is the perfect place to get some ideas on how you can promote the event through social media, email, and pretty much anywhere you like. Save some graphics, copy a template and check out the additional tips!
Logos and Graphics
Giving Tuesday Logo, Transparent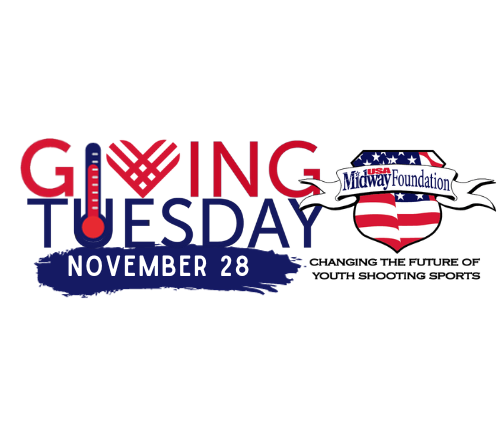 Giving Tuesday Logo, Social Media Size
Click on the templates below to view them. Copy them and use as your own!
Email Template
Dear______,
Being part of a team, like the shooting team, offers our youth the chance to make new friends, learn responsibility and discipline, as well as the chance to participate in something they enjoy. That is why our local shooting team, [ORG/TEAM NAME] is asking for your support on Giving Tuesday, November 28th. Giving Tuesday is a global day of giving that occurs after Black Friday and Cyber Monday.
As you may know, shooting sports participation can be expensive. To offset some of our team costs, we have a team endowment with the MidwayUSA Foundation, a public charity that helps fund youth shooting teams. We are asking you and other community members to please donate to that endowment on Giving Tuesday. We are excited to tell you that your online donation will be matched! Many will be asking for your support on Giving Tuesday, but here are some great reasons to give to our shooting team endowment.
100% benefits OUR team; the MidwayUSA Foundation keeps nothing for its operations.
MATCHED! Your contribution will be matched, thanks to the MidwayUSA Foundation's Matching Program, which is funded by Larry and Brenda Potterfield! Learn More.
A tax deduction. You will receive a gift receipt from the Foundation for your tax records.
Safe, secure, and easy to give online from anywhere to OUR team.
Every donation ensures a future for our shooting team because our endowment will be there forever! Each year, shooting teams are eligible for a cash grant to pay for ammunition, travel, uniforms, targets, entry fees, and more. This endowment helps current and future athletes of the [ORG/TEAM NAME]. We greatly appreciate any contribution you can offer. By selecting our team page link [INSERT LINK] you can donate directly to our shooting team online.
Thank you!
Press Release Template
For Further Information, Contact:                                                                        Date:
[Team Contact/Phone]
[SHOOTING TEAM/ORG NAME]
is Participating in Giving Tuesday to Raise Funds for their MidwayUSA Foundation Endowment.
[CITY, STATE] – [ORG/TEAM NAME] has joined the Giving Tuesday movement, a global day of giving that kicks off the giving season and follows Black Friday and Cyber Monday. On this day, November 28th, [ORG/TEAM NAME] asks for your support to grow their MidwayUSA Foundation endowment. [ORG/TEAM NAME] has their own earmarked endowment at the MidwayUSA
Foundation, a public charity that helps communities and organizations raise funds for their high school, college, and other youth shooting teams and activities. Each year, teams and organizations with a MidwayUSA Foundation Team Endowment are eligible to receive a cash grant from that endowment to use for expenses like ammunition, travel, targets, uniforms, entry fees, and more.
[OPTIONAL QUOTE FROM COACH, TEAM MEMBER, BOARD MEMBER]

One of the main ways teams grow the endowment is through online donations, which are matched. Those interested in giving to the [ORG/TEAM NAME], where your donation will be matched, can visit the MidwayUSA Foundation website (midwayusafoundation.org/donate) and search for [ORG/TEAM NAME]. Donations are tax-deductible, and 100% of the donation, as well as the match, benefits that specific shooting team. This funding is available for the life of the team, so growing the endowment is crucial to the future of our local shooting team.
To learn more about the [TEAM/ORG NAME] or to get more information about their MidwayUSA Foundation Endowment, please contact [contact name & info].
The MidwayUSA Foundation is a 501(c)(3) public charity working to sustain the shooting sports industry by providing long-term funding to youth shooting teams. Every donation made is 100% tax-deductible and supports the mission to help communities and organizations raise funds to support their youth shooting team. The Foundation supports all shooting disciplines. For more information about how the MidwayUSA Foundation is changing the future of youth shooting sports, please visit midwayusafoundation.org or call 1-877-375-4570.
Additional Tips
SET A GOAL! Big or small, it doesn't matter just set a goal. Setting a goal will help others commit and be able to work towards something tangible, not just an idea.
PROMOTE THE MATCH: There are very few organizations that offer a match on donations, so use that to your advantage. Tell them, tell them, and tell them again. For example, ….

Our community shooting team has a MidwayUSA Foundation Team Endowment, and every donation we receive for that endowment is matched! You can donate right to our team through their website, and 100% of your donation benefits our team and will be matched. Spread the word that the MidwayUSA Foundation will match donations, 1:1, on Giving Tuesday!
Share your Page Link: Every shooting team or organization has its own page on our website. Once you are on your page, you can copy that URL and send that out in an email, text, social media posts, and more. One-click, and folks are on your page with a big "Donate Now" button. Try creating a QR code for any print material you may send or hand out! Start making QR codes for free at QR Monkey!
Tell your story: Donors and community members often respond well to real stories about how their impact can help. Post a video of someone talking about your team. Like a short video featuring athletes, coaches, or even supporters.
SHARE! SHARE! SHARE! First things first, go like our Facebook page and follow us on Twitter!
On #GivingTuesday, November 28th, we will be very active with social media and email. Share our Facebook posts, retweet, or forward our emails. You can even designate an athlete or team volunteer just to share and post that day. Also, don't forget to use the images and logos included in this Toolkit to help increase your communities awareness by attracting their attention.
Hashtag: Hashtags allow users to follow certain trends, and #GivingTuesday WILL BE trending, so join the movement. Here are hashtags we encourage you to use.
#givingtuesday | #givingtuesday2023 | #changethefuture | #youthshootingsports | #shootingsports | #fundraiser | #midwayusafoundation
Say Thank You: It is important to thank those that support your team on #GivingTuesday. You can always refer to your team or organization page on the MidwayUSA Foundation website to see a donor list.