Meet the team that helps your team!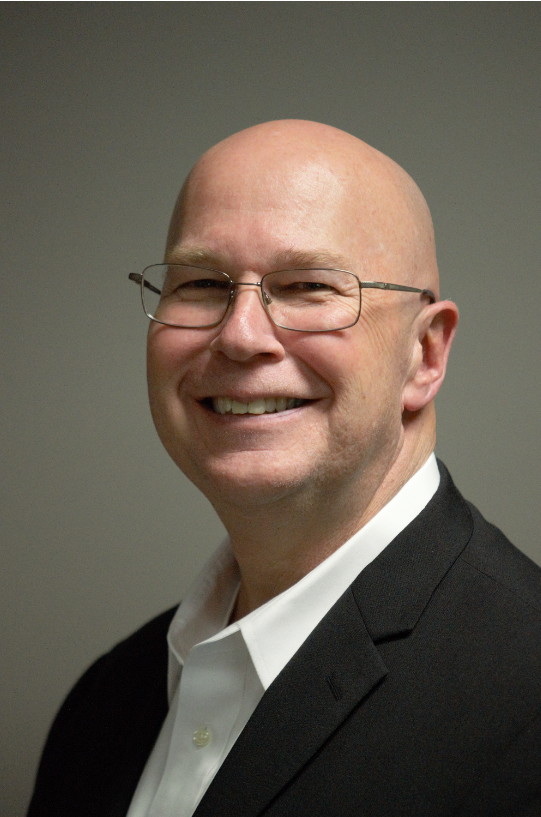 G. Scott Reynolds, Executive Director
gsreynolds@midwayusafoundation.org |  573.447.5157
Scott joined the MidwayUSA Foundation team in 2019. Prior to becoming our Executive Director, he completed a 20-year military career in the U.S. Marine Corps, followed by a 15-year corporate career. Scott has served in a variety of senior- and executive-level leadership positions with Honeywell International, General Electric, and Oceaneering International across the aerospace and energy sectors. Living and working across the globe, he has led multiple U.S. and international businesses through turnarounds and sustained growth, and is keenly focused on strategy development, operational excellence, and execution.
Prior to joining us in Columbia, Missouri, Scott most recently established and ran a successful real estate investment business in Pensacola, Florida.
In addition to multiple business certifications, Scott has a BS in Business Management from National-Louis University, a master's certificate in Project Management from Arizona State University, and an MBA from the University of Phoenix. As his resume would suggest, Scott is a reliable and experienced leader. Those leadership skills, combined with his passion for the shooting sports and youth development, make him a great person to lead our team. Scott was raised right here in Missouri and is also a certified private pilot. He is married to Bridget, has three daughters, Stephanie, Amber, and Caitlin, and a grandson, Nate.
---

Jay McClatchey, Program Manager – Northeast
jmcclatchey@midwayusafoundation.org | 573.476.9025                                                                                                    Click Here to set up a phone call or video meeting with Jay.
Jay works with shooting teams in the northeast. He came to the Foundation from Applied Computational Technologies (ACT), a start-up he co-founded to develop a new dose calculation technology for radiation therapy for the treatment of cancer. ACT sold its technology to Varian Medical Systems. Jay started his career in the computer industry, first as a Programmer and then a Computer Systems Engineer with Hewlett-Packard Company (HP). After HP, Jay transitioned into business operations as the VP/COO of JCM Industries, a grade hardwood lumber, and pallet manufacturing company. Jay has a Bachelor of Science degree in Applied Computer Science and Business Administration, and a Master of Science degree in Management and Leadership. Jay has been shooting and hunting ever since he was old enough to hold a gun. In 2002, Jay co-founded a High School smallbore rifle league in Somerset County, PA and began coaching smallbore as a varsity sport in his local school district. Jay is a Life Member of the NRA, an NRA Level 1 Coach in both rifle and pistol, an NRA Instructor in rifle, pistol, and shotgun, and an NRA Range Safety Officer. In addition to enjoying the shooting sports, Jay can often be found water skiing with his wife, Nitsa, and their daughter Maria.
---
Jeff McClure, Program Manager – Southeast
jhmcclure@midwayusafoundation.org | 573.303.8859                                                                                                        Click Here to set up a phone call or video meeting with Jeff.
Jeff is on the ground in support of our shooting teams in the southeast. He joined the MidwayUSA Foundation as our first employee back in 2011 after a successful career as an Army officer. After retiring from the Army, Jeff served as a defense contractor for a number of years prior to joining the Foundation. He has a diverse education, with a BS in Medical Technology/Chemistry from Western Carolina University, an MS in International Relations from Troy University, and his MBA from Colorado State University. Jeff and his wife Luanne have two sons, Zack and Josh, and live in the Asheville, North Carolina area with a menagerie of cats and Blossom, the hound. Jeff loves visiting teams and talking to groups of any size who are interested in the Foundation!
---
Yim Szeto, Program Manager – Southwest
yszeto@midwayusafoundation.org | 573.303.7462                                                                                                           Click Here to set up a phone call or video meeting with Yim.
Yim works with teams in the Southwest. She comes to the organization from the firearms industry with a strong background in sales and marketing, working for many years in marketing and sales with names such as Mossberg and Blaser USA. She has extensive experience in event and show production as well as successful fundraising campaigns. An avid shooter and hunter, Yim is well versed and invested in all aspects of shooting sports from team development through competition. Residing in Texas, Yim is fortunate to be able to shoot year-round and be in close proximity to some of the greatest concentrations of Foundation teams.
---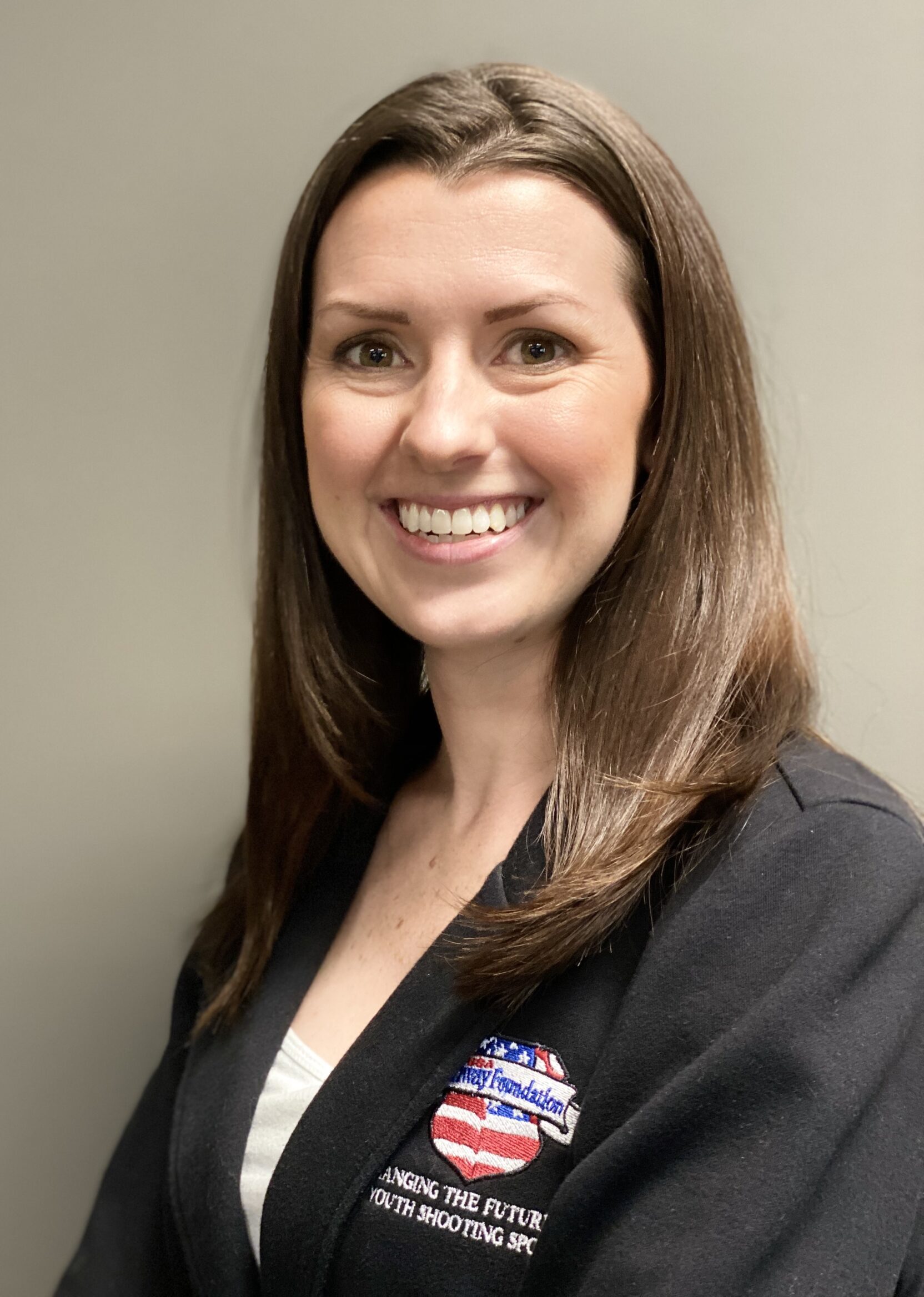 Ashley Petersen, Program Manager – Northwest
apetersen@midwayusafoundation.org | 573.507.0863                                                                                                            Click Here to set up a phone call or video meeting with Ashley.
Ashley joined our team in August of 2020. She works with the shooting teams in the Northwest. Ashley is a graduate of the University of Kentucky, where she was on the rifle team, and received a B.A. in Psychology. In 2014 Ashley was a National Team Member, competing in Olympic style rifle. After her shooting career, she coached a number of teams and promoted youth shooting sports as a whole, through multiple organizations such as the Civilian Marksmanship Program. Ashley has lived in many states across the country, so you can say she is already used to traveling which is perfect for the Program Manager role. She is a proud wife to Brian and mom to Conner and three fur babies Admiral, Trace, and Remi.
---
 Sarah Hall, Project and Events Manager
shall@midwayusafoundation.org | 573.303.8869                                                                                                            Click Here to set up a phone call or video meeting with Sarah.
Sarah focuses on planning and executing our fundraising events. Though she is a Nebraska native, she comes to us from Talladega, Alabama, where she was the Operations Manager for the Talladega Marksmanship Park with the Civilian Marksmanship Program. We are excited she is a product of the very programs we support. Sarah was a scholar-athlete with the University of Kentucky Rifle Team. She and her pistol shooter husband, James, are proud parents to their daughter Rylee and son Wyatt.
---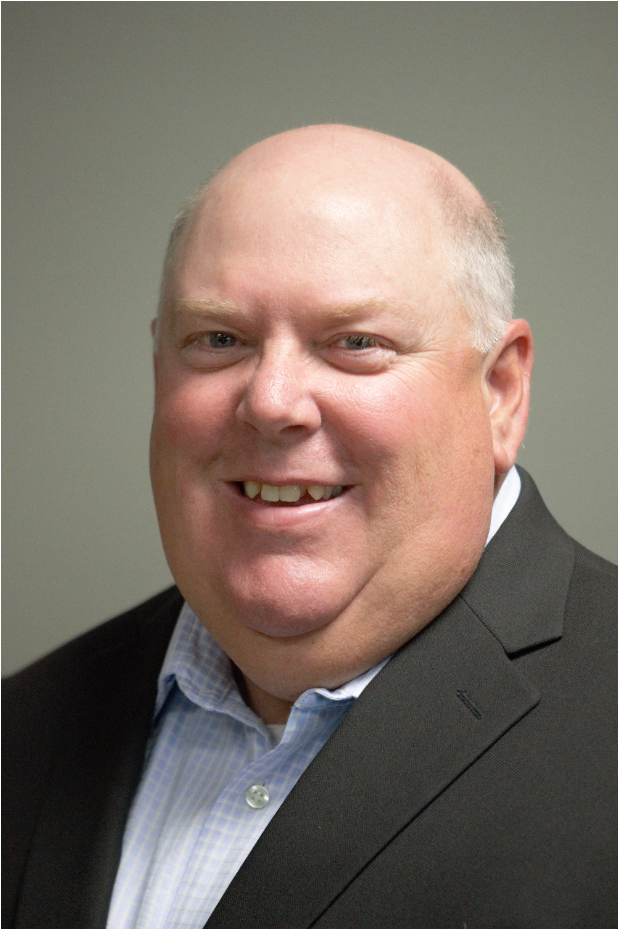 John Linquist, Relationship Manager
jlinquist@midwayusafoundation.org | 573.219.7688                                                                                                          Click Here to set up a phone call or video meeting with John.
John works with our industry supporters and can assist donors with a plan to leave a legacy for youth shooting sports. He was born and raised in Cherokee, Iowa where he loved hunting, fishing, and competing in shooting sports. John has a strong background in graphic design and marketing and worked in the packaging and printing industry for over 20 years. Some of his customers included Disney, Neiman Marcus, and Macy's. Most recently, John was the National Shooting Sports Manager for Pheasants Forever and Quail Forever. During his 13 years with PF/QF, he worked with 750 chapters across the U.S. One program he helped create, "Adopt-A-Team," connected dedicated volunteers with youth shooting teams. This program helped raise critical dollars to support shooting teams and their MidwayUSA Foundation endowment accounts. John currently resides in Sibley, Iowa with his wife, Darla. Together they have two children; Matthew, and Suzanne, a grandson Kyler, and the perfect hunting companion a Gordon Setter, Cooper.
---
Dani Farris, Marketing Manager
dfarris@midwayusafoundation.org |  573.447.5994
Dani, along with Zach, takes care of communicating all the great work of the Foundation, as well as creating marketing material. A graduate of Westminster College, Dani played basketball and studied Business Communications.  Before joining the Foundation, Dani worked in the world of radio as the Creative Director for Learfield Communications, specifically with statewide news networks and the Brownfield Ag Network. Dani and her husband Charley have a son, Oliver and a daughter, Etta. You can often find Dani at a Mizzou tailgate or a county fair.
---
Zach Abbott, Marketing Specialist
zabbott@midwayusafoundation.org | 573.447.5995
Zach is the newest member of our staff. Born and raised in New Freeport PA, Zach is a graduate from Jacksonville University, where he studied Business administration and was the assistant coach of the JU Shooting Team where he competed for 4 years as well. Before joining the Foundation, Zach was the Marketing Manager for the National Collegiate Shooting Sports Athletic Association. When he is not in the office, Zach can be found on the range competing in Sporting Clays tournaments. Off the range, Zach is an avid outdoorsman, and he stays busy playing with his dog Beef, and his cat Noodle.
---
Mandy Stallo, Program Coordination Manager
astallo@midwayusafoundation.org | 573.447.5959
Mandy is one of the veterans on staff, joining the team in 2012. She has witnessed first-hand the evolution and success of the Foundation, and thoroughly enjoys seeing the positive impact her role has played in the lives of youth across the country. Mandy's primary focus is in supporting the entire Programs Group through coordination services; specifically data management, program execution, grant administration, and donation receipting/reconciliation. She takes great pride in ensuring the successful delivery of high-quality service to our constituents. Mandy joined the Foundation after working as a Recreation Specialist with JC Parks and Recreation in her hometown of Jefferson City, MO. She graduated with her BS in Business Marketing from William Woods University, where she was also a 4-year starter for the Women's Golf Team. She attributes her passion for organization, time management and communication skills to her days of being an accomplished collegiate student-athlete. Mandy, and her husband Brandon, are kept busy raising their two beautiful, strong-willed daughters, Finley Grace and Lennon Hayes.
---
Heather Laws, Senior Program Coordinator
hlaws@midwayusafoundation.org | 573.447.5974
As Mandy's sidekick, Heather is also the queen of our grant application system and helps us keep our database in order. Knowing Heather's sweet personality, it is no surprise she did social work before joining us. Though we're based in Mizzou country, Heather is our only University of Missouri graduate. She studied Psychology and Sociology. She likes to bake, garden, cheer on the St. Louis Cardinals, and is our resident movie buff. Along with her husband (Tim), son (Elijah), and daughter (Leola), two corgis, Liberty and Yadi, make up the Laws family.
---

Brent Ferrell, Controller
bferrell@midwayusafoundation.org | 573.447.5977
Brent joined the team in November of 2018. He has a Bachelor's in Accounting from Judson University in Elgin, IL. Previously the CFO at the Columbia Daily Tribune, he is no stranger to financial statements and spreadsheets. He is the person that lies awake at night pondering how he can modify a database to make it more efficient and will talk to you at length about excel formulas. Brent and his wife Cathy typically spend all their free time on Missouri baseball and softball fields, cheering on their children, Jonathan & Allison. The Ferrell family also includes Bailey, a spoiled Great Dane that likes to drink out of the kitchen faucet, and her sidekick 'cat,' the cat.
---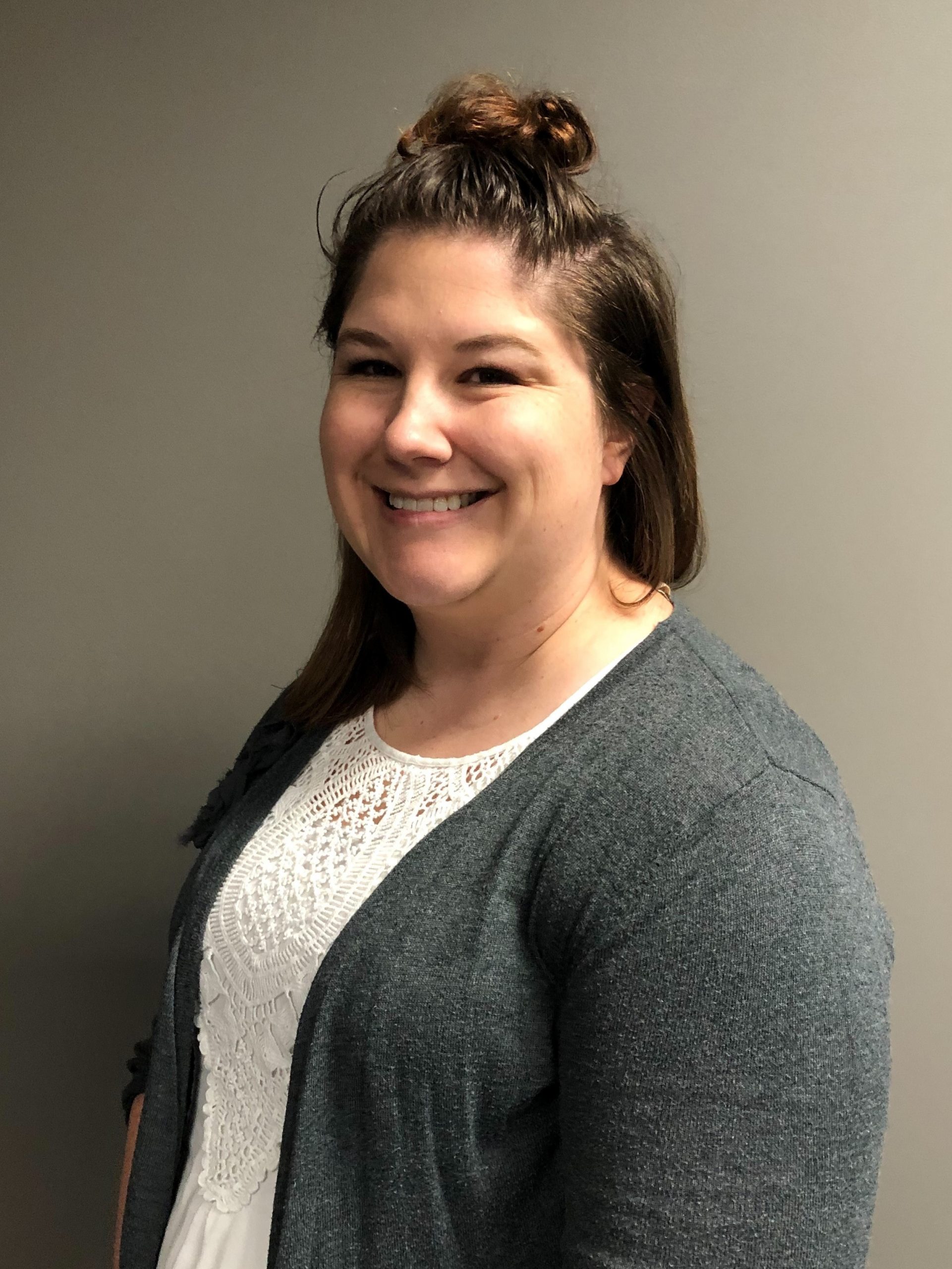 Ashley Perkins, Staff Accountant
Aperkins@MidwayUSAFoundation.org 573.447.5969
Ashley came on board in May of 2021. As a Staff Accountant, she supports Brent by performing daily routine accounting functions. She is originally from Macon, MO. However, currently, she lives in Centralia with her husband Matt and three kids Grace, Killian, and Louisa, and their mini schnauzer, Collin. Ashley has a BA in Business and MBA from Columbia College. She enjoys cheering on Mizzou, the Chiefs, and the Royals. In her free time, she's mostly busy with kids and their various activities/school functions. As a family, they love to travel, especially to amusement parks. Additionally, she's an avid musician. She has played the clarinet for about ten years and was in Marching Mizzou for one season.
---

Monika Huenefeldt, HR and Logistics Manager
mhuenefeldt@midwayusafoundation.org | 573.447.5992
Monika keeps us all in line here, keeping the departments organized and managing our Fundraising Product Program. Previously, Monika spent 18 years as the Executive Administrative Assistant and Finance Manager with the Mike Kehoe Auto Group. She has her BS in Criminal Justice Administration with minors in Psychology and Sociology. Monika and her husband Chuck have four kiddos and a Cavalier King Charles pup named Ollie.
---
Joey Adams, Logistics Coordinator
jdadams@MidwayUSAFoundation.org | 573.447.5993
Joey joined the team in March of 2022. He is vital in ensuring all of our youth shooting sports teams and organizations receive their fundraising products. He is a recent graduate of the Sam Walton College of Business from the University of Arkansas with a Bachelor's of Science in Business Administration, majoring in Marketing and minoring in Supply Chain Management. Joey enjoys spending his free time with his better half, Davina, and taking his Long Haired German Shephard, Zara, on walks. Joey loves spending time with his family and helping others. He supports what the Foundation does for the Youth and the impact it has has on so many individuals.
---
MidwayUSA foundation volunteer ambassadors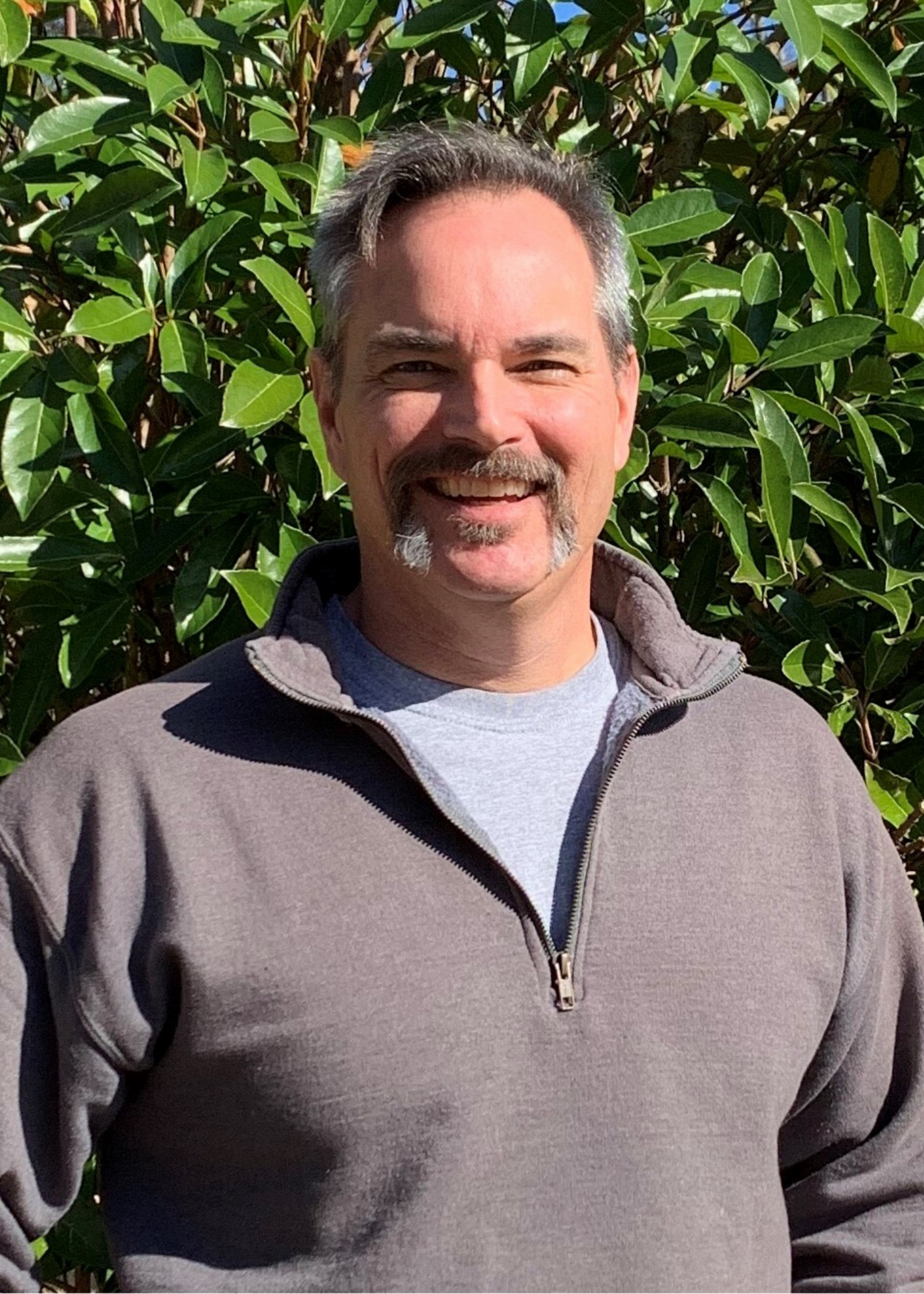 John Broughton Jr, North Carolina Ambassador
John is a Civilian Marksmanship Program Marksmanship Instructor, involved in Cary High School's NJROTC, a Shooting Association Skeet Instructor, an NRA Shotgun Coach, and the President of Triangle Target Sports Foundation. He has competed in National Matches for the NC Army National Guard Rifle Team and the national All Guard Rifle Team. He was once a Battalion Marksmanship Coordinator, North State Shooting Club Officer, a member of High Power Rifle Club, and a Shooting Sports Administrator & Instructor for both Cub Scout/Boy Scout camps. Furthermore, he makes a weekly effort to visit a range to enjoy the reward of shooting sports. John enjoys working with young shooters from all disciplines and strives to include life skills like, confidence, self-esteem, and positivity in his teachings.
---
Carl Gentry, Georgia Ambassador
cgentry@musaf-ambassador.org | 423.991.4268
Carl was active duty in the Air Force for twenty-two years before starting an Air Force Junior ROTC program and a 3-Position Air Rifle team at Ridgeland High School in Rossville, GA. As the Head Coach of these teams, he contributes substantially to see them succeed. Additionally, Carl is a founding member and Board member of two Friends of the NRA chapters in North Georgia, a Lifetime Member of the NRA, and a board member of the Georgia Youth Shooting Sports Foundation. Carl has been shooting and hunting from an early age. He is an upland game hunter and guide at a hunting preserve in Tunnel Hill, GA. He enjoys his 28 gauge and three pistol calibers as well as casting his own bullets. Carl is also a Super Fan of the MidwayUSA Foundation's Facebook page, and we're very grateful for his continued support!
---
Diane Rice, Indiana Ambassador
drice@musaf-ambassador.org | 260.437.3860
Diane wears many hats in the shooting sports industry. She is the Civilian Marksmanship Program Indiana Co-State Director with her husband Gregg. Together Gregg and Diane founded The X Count in 2012. The X Count is a nationally known rifle facility and a USA Shooting Certified Training Center. Diane's contribution to The X Count and shooting sports is primarily administration, marketing, and fundraising. She also enjoys the youth development component of shooting sports as she recently left a thirty-year career in human services. Diane's greatest accomplishment is working with local, state, and national partners to build her team's endowment to one of the highest in the nation. Diane is on the board of the Indiana State Rifle and Pistol Association and works with the NRA to administer the national smallbore matches and their auxiliary activities.
---
Mike Schatz, South Dakota Ambassador
mschatz@musaf-ambassador.org | 605.376.8219
Mike is from Elgin North Dakota. From a young age, he was very active in sports before attending North Dakota State College of Science on a track scholarship to study Business Administration with a focus in Marketing and Management. Currently, Mike is involved in the Sioux Falls Youth Trap Shooting Team, an NRA Level 1 Instructor, and an SD Game Fish & Parks Hunting Safety Instructor. Mike has been a Pheasants Forever volunteer for more than a decade and has helped plan many State Meetings as well as Pheasant Fest. Mike is an avid outdoorsman and enjoys hunting, fishing, and exploring national parks. He particularly likes to explore the Black Hills of SD on ATVs and UTVs with his friends.
---
Jeff and Tonya Schultz, Arizona Ambassadors
Jeff and Tonya Schultz live in Gilbert, AZ. The Schultz's have been involved as volunteers with the SCTP club, Rio Salado Target Terminators, since the inception of the club in 2004. Jeff has been an SCTP NRA Certified Shotgun Level 1 coach for the team for the last 16 years. In 2012 he became the head coach and started the shooting team's MidwayUSA Foundation endowment. Since the beginning, shooting sports has always been a family activity. Both their son and daughter joined the SCTP club when it started and went on to have successful shooting careers. Their son competed through High School and was one of the first International Skeet SCTP athletes. Their daughter was the driving athlete to establish Collegiate Club shotgun sports in Arizona and she competed throughout college. They both have now become SCTP coaches for the Rio Salado Target Terminators. The family takes pride in promoting and sharing the shooting sports to the community in a safe and educational environment.
They enjoy seeing athletes grow as individuals and go on to mentor others in shooting sports as they demonstrate responsibility, sportsmanship, teamwork, integrity, and other positive life skills they have learned. Jeff and Tonya want athletes and families to discover that shooting sports is an enjoyable activity that they can continue as a family… forever.
---