Giving Tuesday Success
2020 has been quite a year for the youth shooting sports community. With countless obstacles, while trying to gather, compete, and fundraise, shooting teams have been on their 'A-game' this year to keep their organization thriving. When it comes to fundraising, Giving Tuesday is proof that teams and organizations worked hard to spread awareness and generate funds. On this global day of giving, 610 donations totaled an incredible $249,493! This was the biggest Giving Tuesday yet, with our average donation being approximately $400. We also raised $73,000 more than we did in 2019. Additionally, the Foundation offered $175,000 in matching funds and $20,000 in team incentive dollars for the event. This means we added a grand total of $444,493 to youth shooting sports endowments. That contribution benefited over 250 shooting programs. These funds will increase each shooting program's annual cash grant, which sets them up for success as shooting seasons return to normal. A special thank you to all the donors for your generosity during this annual event; together, we are truly changing the future of youth shooting sports!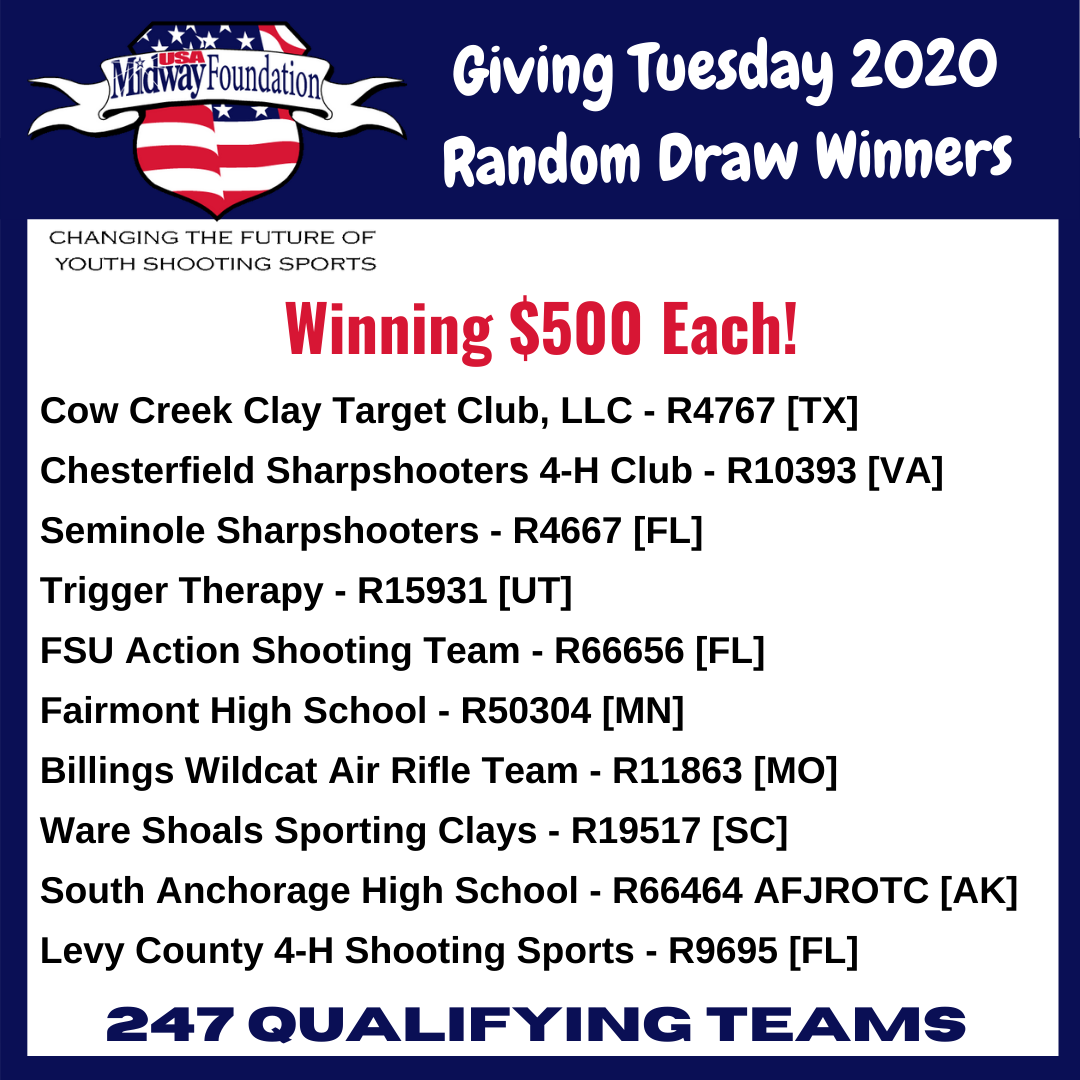 Matching Ratio and Winning Teams!
Every youth shooting team and organization that received a donation on Giving Tuesday will receive a portion of that $175,000 of matching. The matching ratio came out to $0.70 on the dollar. If your youth shooting program received a $100 donation, we added an additional $70 for a total endowment contribution of $170! Our Matching Program is something we take pride in here at the Foundation. It's our way of rewarding those teams and organizations that are involved and determined to help themselves. Speaking of rewarding hard-working teams, we added something new to Giving Tuesday this year; bonus endowment funds! We awarded the top 5 teams that generated the most donation dollars and drew 10 teams at random to win $500 each. See the top teams below and the random draw winners in the graphic on the right. Click Here to view all the shooting teams that qualified for this incentive.
1st Place, United States Military Academy Shotgun Program – R65455 [NY] $5,000
2nd Place, The X Count – R4979 [IN] $4,000
3rd Place, Lawrence County Young Guns – R4695 [PA] $3,000
4th Place, Massachusetts Shooters Foundation Junior Programs – R4164 [MA] $2,000
5th Place, Centralia Rifle Club and Junior Division – R17596 [WA] $1,000
Final Standings    Giving Tuesday Guidelines