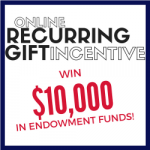 A new incentive is here!  We are so excited to give our shooting teams the chance to increase their Team Endowment by $10,000.  The Online Recurring Gift Incentive will award the 3 shooting teams with the most online recurring gift dollars captured from May 1 to August 31.    We think Online Recurring Gifts are a way to easily and quickly grow your team endowment, but we also understand it can be challenging.  This is why we want to reward that hard work!  Here are a few reasons people should create an online recurring gift, aside from the incentive:
 Their contribution will be matched 2:1, every month! 
 They choose to give to YOUR shooting team's specific endowment and we take ZERO out for operations.
 Their tax deductible donations can be set up on our secure website, with one transaction.  We do the rest and send one receipt at the end of the year!
Some things to remember about this Online Recurring Gift Incentive is that donors must commit at least $25 per month for one year to ensure your team is qualified.  Because this incentive only runs from May until August, we'll only count online recurring gifts captured in that time period.  We encourage you to review our full list of guidelines and never hesitate to contact us if you have questions.   On top of rewarding the top 3 teams with $10,000, ALL participating teams will receive a set of 10 Browning 2 Knife Sets once they have their first donor committed and we have captured their online transaction.  You can use these knives to encourage more donors to make a commitment to your shooting team!  You choose how to use the knives and their is no expected donation.  We have created a few documents to help you communicate this incentive too.
2017 Online Recurring Gift Incentive
2017 Online Recurring Gift Incentive Postcard
Power of a Recurring Gift Infographic
When you're ready to get started, tell your donors to visit our recurring gift page and find your team page to donate!  Good luck!