It's the perfect time to grow your youth shooting team's endowment through the MidwayUSA Foundation's Online Recurring Donation Drive! The goal of the drive is for shooting teams to increase their recurring gift income. Gaining recurring donors is important for a team's future. These supporters allow shooting teams to continuously grow their endowment which leads to larger annual cash grants. The Online Recurring Donation Drive begins in June and runs through August and the Foundation is awarding a total of $25,000 to teams participating in the event.
Each team's goal is to pursue new or increase current recurring donations to grow its endowment. This is how the contest works; if your team currently has a recurring gift(s) (processed in May) this will become the baseline for growth. Increase the dollars of those recurring gifts or gain more recurring donors and your team will receive two entries into our random draw, in addition, the chance to win a top five prize. This creates an even playing field for all teams that want to participate because the baseline puts teams, whether they had previous recurring gifts or not, at the same starting point. Our Online Recurring Donation Drive gives all shooting teams endless opportunities to grow their endowment through monthly and quarterly gifts.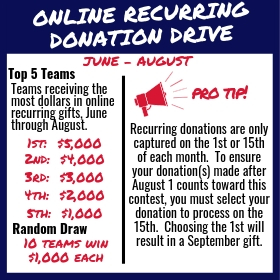 Additional Information
Creating your recurring donation can be done on our normal donation form.  Choose the date (1st or 15th) and the frequency, monthly or quarterly, for your first gift, and then we take care of additional transactions. The donation form can be found on a team page. Search for your team's page now by using the button below.
Remember, all recurring donations are matched through the MidwayUSA Foundation Matching Program and are tax-deductible. For more information regarding the Online Recurring Donation Drive, review our contest guidelines or contact us at info@midwayusafoundation.org.