The December grant deadline is upon us, less than a month away! Remember, youth shooting teams with a balance in their MidwayUSA Foundation Team Endowment that didn't apply in June 2019, are eligible to apply for their annual cash grant. Applicants must complete the MidwayUSA Foundation Grant Application and submit it by December 15th. Teams can receive 5% of their endowment balance to use for expenses, such as ammunition, travel, entry fees, uniforms, targets, and more. Teams are eligible to apply for their cash grant, every year and early submissions are encouraged. We lock in your endowment balance on December 15th; therefore, you can continue to grow your endowment, after submitting the application, all the way up to the deadline!
The December 2019 cycle has over 2,250 teams eligible, and a potential payout of about $4.3 million. 281 have already submitted the application, but we are still waiting on 1,988! If you need assistance or have questions about eligibility, you can email grants@midwayusafoundation.org. If you would like to see the list of current applicants, select the link below.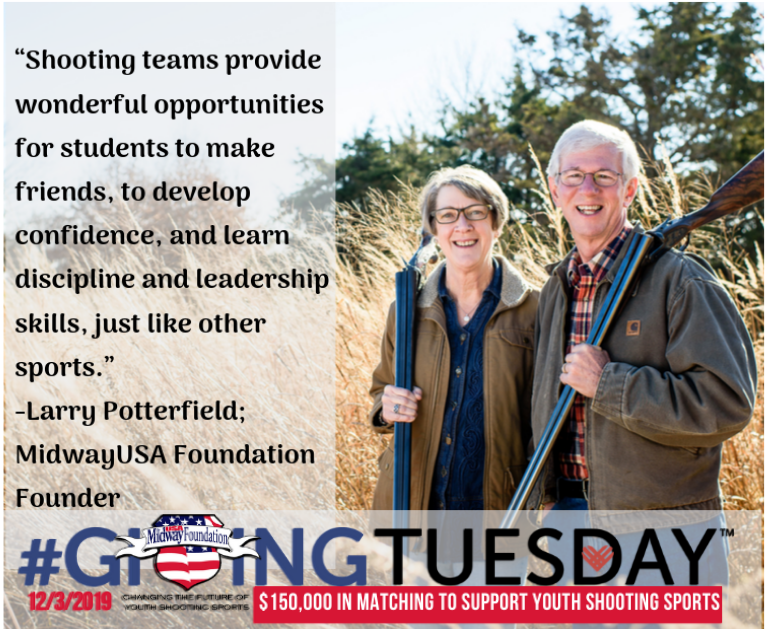 Grant Application  Current Applicants
Grow your Endowment with Giving Tuesday 2019!
This year, GivingTuesday falls on December 3, 2019, and the MidwayUSA Foundation will have $150,000 in additional matching just for that day! To help you prepare for the day we have provided some great resources, which include a Giving Tuesday Toolkit and Classy's Guide to Giving Tuesday! Visit our Giving Tuesday page on our website for more information on the day and to download these great resources!