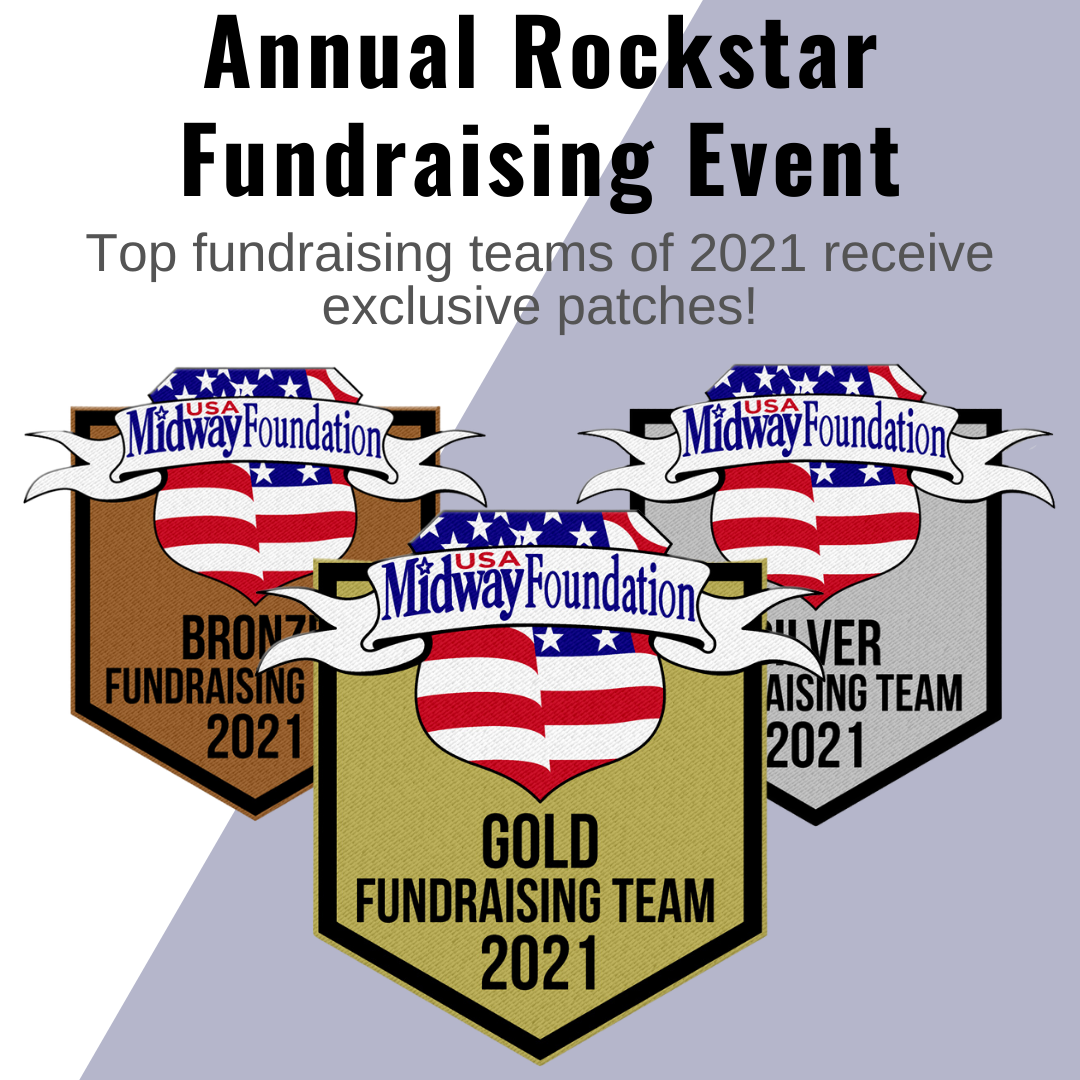 In addition to the fundraising events we frequently host, we also have an annual contest that provides additional endowment funds and patches to the top fundraising teams of the year. This is the Annual Rockstar incentive. Every team with a MidwayUSA Foundation Team Endowment is eligible to participate, and for 2021, the team endowment with the most growth will win $15,000! Second place receives $12,500, $10,000 goes to third, fourth place earns $7,500, and $5,000 will be awarded to fifth place. Check out the current standings as of November 30, 2021, HERE.
As mentioned, fundraising patches will be provided to the top youth shooting teams of 2021. Teams can earn gold, silver, or bronze patches year after year. Bronze fundraising patches are awarded when teams raise $5,000 in the year. Silver is awarded after adding $15,000 to their endowment, and gold patches are provided when a team raises $25,000 or more in one calendar year. Once a team reaches a patch level, they will automatically earn the patch for that given year. There's not a limited number of patches given either. So, if every team raises $5,000 or more this year, all teams with a MidwayUSA Foundation Team Endowment would receive patches in early 2022! Please support your favorite shooting team so that they can join the ranks as a top team and show off these awesome patches, on and off the range!
Promote Your Endowment With QR Codes
The great thing about sharing online content is that people can use links to visit various websites instantly. Still, people often prefer having something tangible to read and share with their community, such as a postcard or flyer. QR codes allow you to add links to these printed items. QR codes are images that can be scanned using a smartphone's camera and take people to a specific web page on your phone's internet browser. Use QRCode Monkey to make some codes for your youth shooting program. QRCode Monkey allows you to completely customize a QR code and download it for free! You can then add the image of your code to any promotional materials you'd like. Try creating a QR code that takes people to your MidwayUSA Foundation endowment donation form or team page. This would make donating very convenient, and donors would definitely appreciate that! Start making QR codes now with the button below.