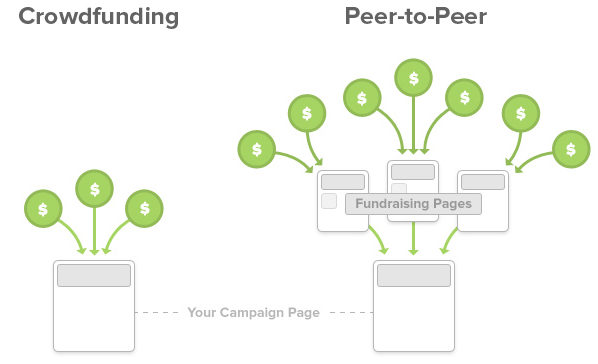 What is Peer-to-Peer?
The MidwayUSA Foundation has a new fundraising resource available to youth shooting teams. The fundraising tool is called Peer-to-Peer, and it's an exciting way to get your entire team growing your endowment! This fundraising tool is a form of crowdfunding similar to "GoFundMe," but there are a few significant differences. The main difference can be explained using the graphic on the right. Standard crowdfunding pages have just one personalized campaign page. Peer-to-Peer allows every member that's invited to raise funds for the cause with their own personal page. A member's page is customized and shared with their family, friends, and community.
How to Get Started.
Teams must complete the registration forms and provide us with the requested team details before they can begin using the platform. Setting up the page is fast and straightforward. Once we have all the required information, your team's page can be ready very quickly. We also provide a step by step guide that helps your team with the set-up, promotion, and success of your campaign. We are here to get you started, but this is ultimately your campaign in your community.  Do what works best for your shooting team! If you have any questions, contact us at peertopeer@midwayusafoundation.org
or at (573) 447-5969.