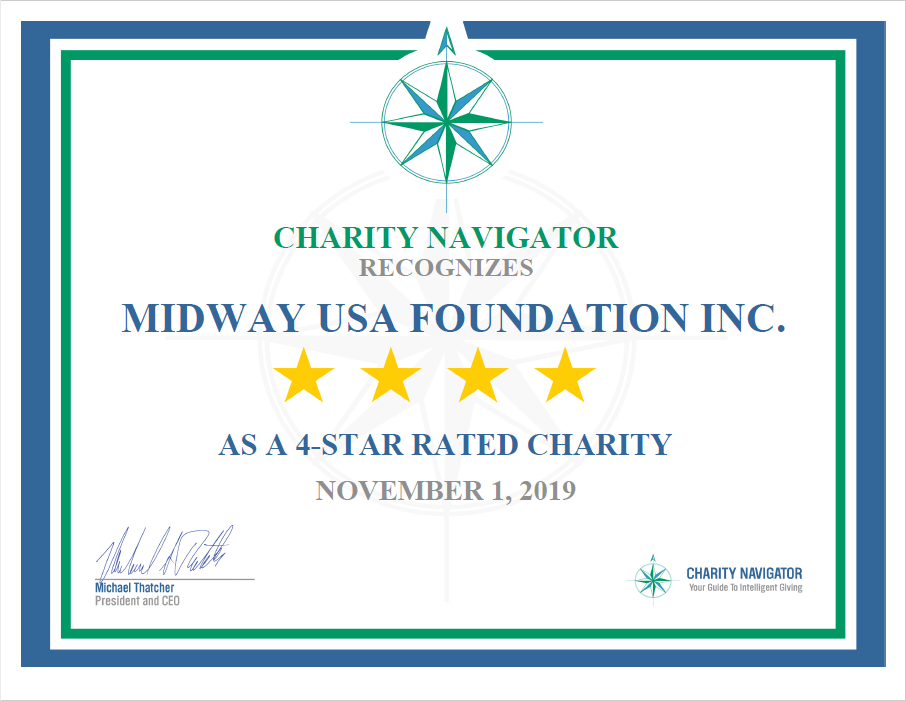 The MidwayUSA Foundation is proud to announce that due to strong financial health and a commitment to accountability and transparency, we have earned a 4-star rating from Charity Navigator, America's largest independent charity evaluator. This rating is the highest possible rating a charity can receive on Charity Navigator.
"The MidwayUSA Foundation's exceptional 4-star rating sets it apart from its peers and demonstrates its trustworthiness to the public," according to Michael Thatcher, President & CEO of Charity Navigator. "Only a quarter of charities rated by Charity Navigator receive the distinction of our 4-star rating. This adds the Foundation to a preeminent group of charities working to overcome our world's most pressing challenges. Based on its 4-star rating, people can trust that their donations are going to a financially responsible and ethical charity when they decide to support the MidwayUSA Foundation."
We want to thank our partners, donors, and members of the community for supporting us and the many youth shooting teams across the nation. If you would like to view our Charity Navigator profile, select the link below.